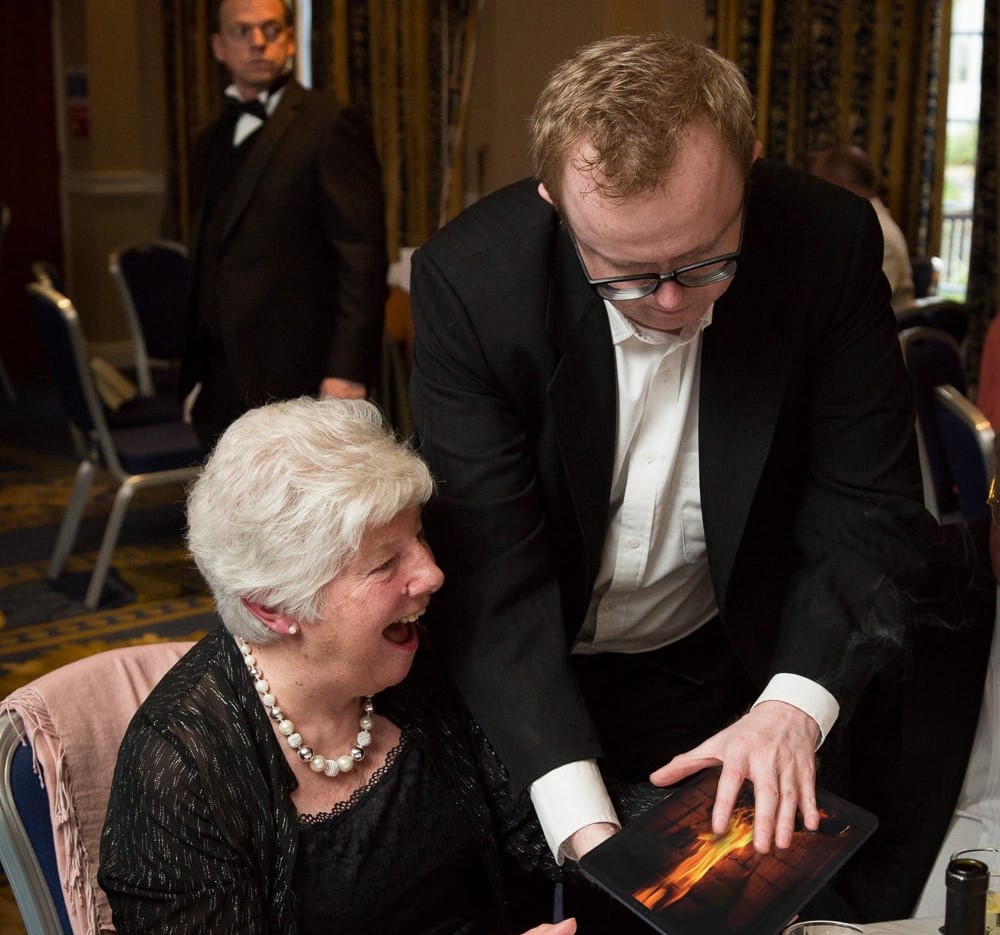 Digital iPad magician Noel Qualter has been a professional magician for nearly 20 years and has always been obsessed with technology. This fusion of his twin passions has led him to create some groundbreaking iPad and tech magic that he performs at corporate events, private parties, trade shows, weddings, product launches, social media campaigns and more.
If you are organising an event and need some entertainment that's completely different, mind blowing and guaranteed to get your guests talking, then you need tech magician Noel Qualter. Even if your guests have seen a close up
magician before, they've never seen anything like a digital illusionist. Noel combines centuries old sleight of hand technique with hi-tech digital animations, apps and programming to create something brand new. Using iPad's, phones, laptops and other devices, Noel produces tech miracles before your eyes.
If you're looking for something fresh and different for your event, call Noel on 0781 382 5547 or complete the contact form.
If you have an event coming up and would like some custom iPad or tech magic then get in touch with Noel. He can tailor make digital illusions specifically for your brand or company. Noel recently created custom tech magic for CNET.com and Honor for the product launch of a new laptop.
Noel can produce a giveaway item or product from the iPad, tablet or laptop – just imagine, your new product jumping into reality from the digital realm!
Noel's passion is creating powerful magic and it's what's he's known for. All of the digital illusions he creates are original to him. He works with a handful of the best digital artists, animators and developers and combines that with his decades of experience as a professional sleight of hand magician. The result is jaw dropping cutting edge visual magic. Objects pop in and out of existence from the iPad, impossible feats occur in a burst of fire and smoke.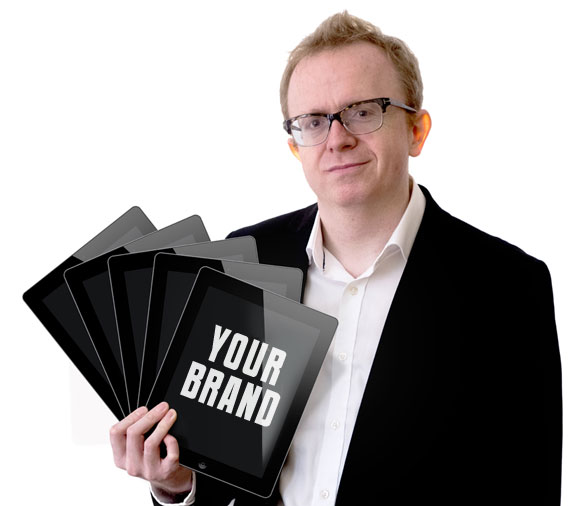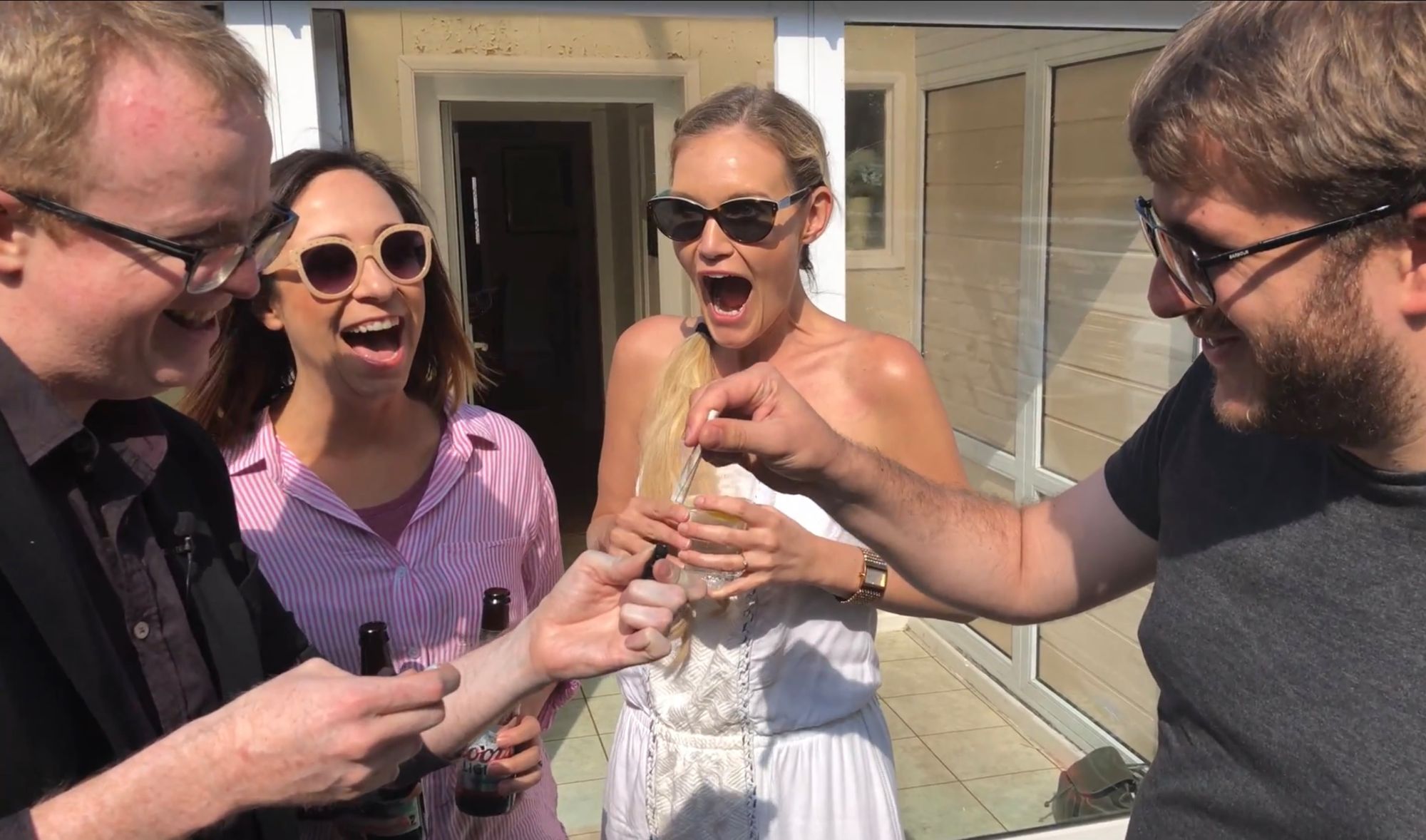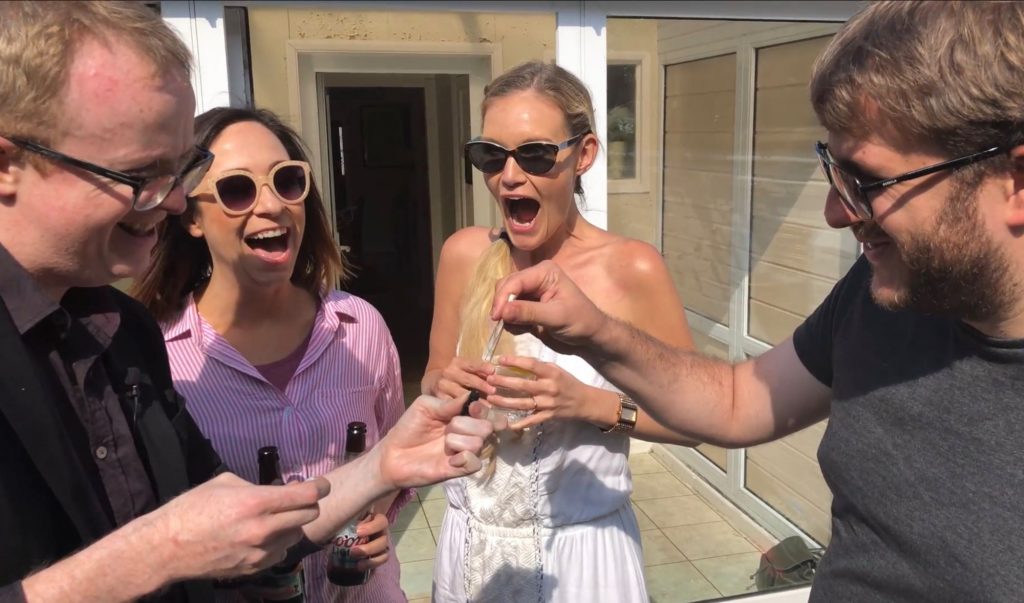 Walkaround/Table iPad Magician
The vast majority of Noel's work as an iPad magician and tech magician is at functions, where he performs tricks with his tablet during the drinks reception or at the guests' tables during the breaks in courses.
Noel performs a short show for each group before moving on and the guests very quickly figure out there's a magician in the room as the laughter and applause spreads.
Trade Show Digital Magician
A digital iPad magician can make a huge impact at a trade show. In advance, Noel can work with your marketing department on how to integrate his digital magic into the trade show stand.
Magic is a superb way to draw a crowd and in the ultra-competitive world of the trade show, you need every advantage you can get.
Noel can tailor his tech magic to highlight the strengths of your brand and your key messages, all the while integrating superb magic into his presentation. He recently performed for CNET at the European launch of the Honor MagicBook laptop, creating bespoke magic to showcase Honor's brand new device.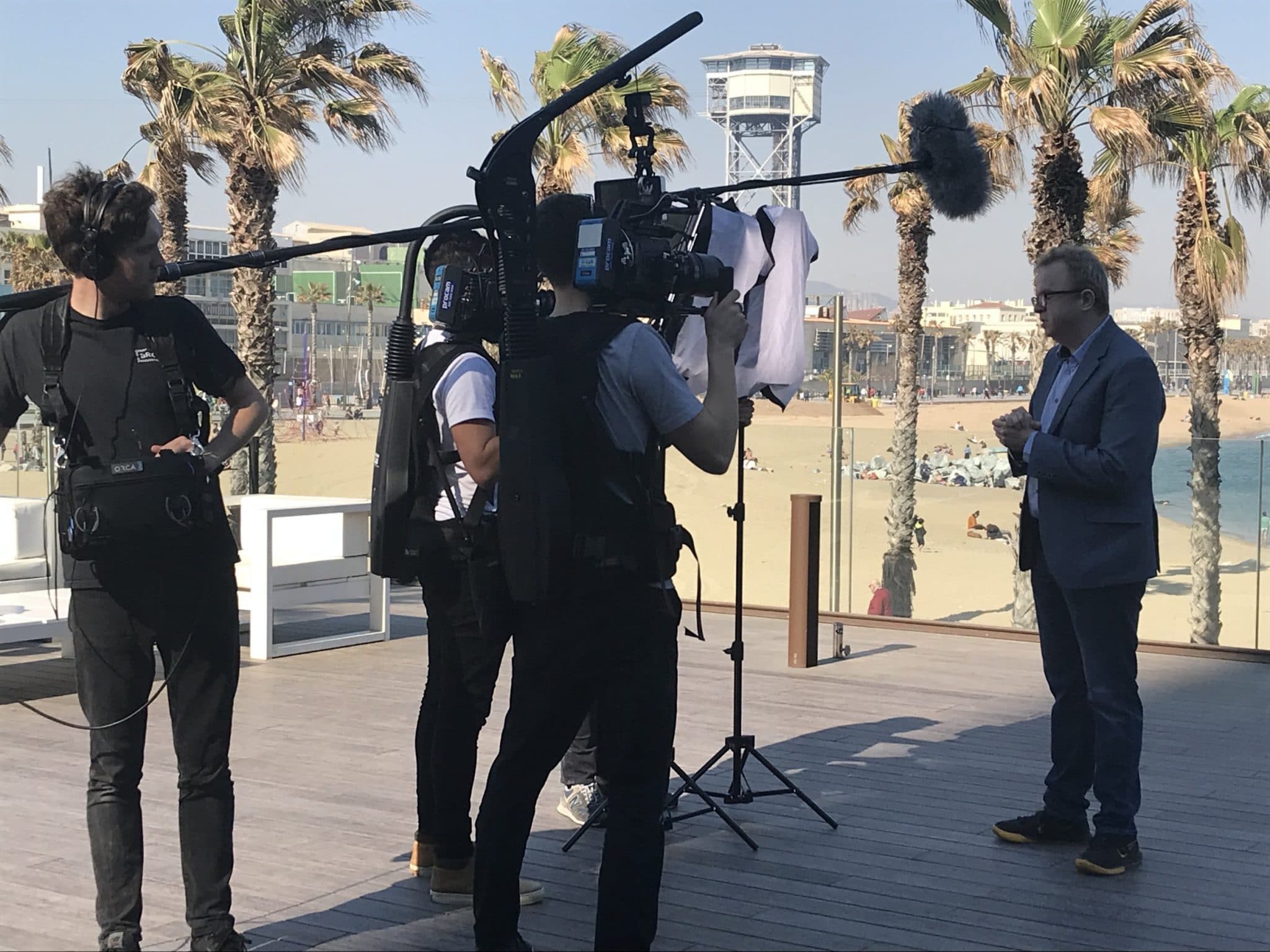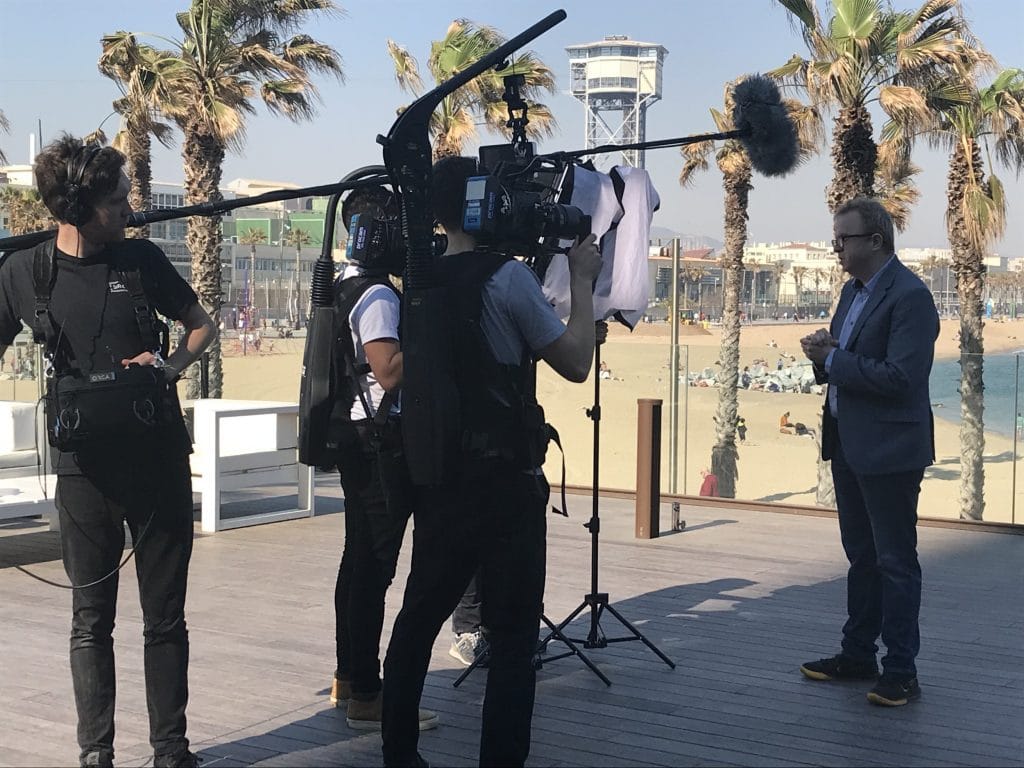 Wedding iPad Magician
It's your big day and you want something really special and different.
Noel can come along and blow all your guests away with his stunning iPad and tech magic. Seeing as it's your special day, how about a mini bottle of champagne pulled straight out of the iPad?
Something Else?
Running a social media campaign? Need some digital magic for a TV show? If you need anything related to tech magic or think you could use an iPad magician at another type of event, please contact Noel or call on 0781 382 5547 and he'll be happy to help.


Here you can see Noel filming with CNET.com and Honor for the European launch of the Honor
Gareth is a comedy character masquerading as a freelance tech support worker who melts the minds and phones of your guests.
Have your guests seen every type of strolling entertainment before? Well, they haven't seen 'Gareth from Tech Support'. He's like a more amazing version of Doc from the Back to the Future. He's got plenty of hairbrained tips, tricks
and ideas to show you with his iPad or your phone. Some of them are borderline genius but more often than not it turns into a disaster.
Gareth is a comedy magic act that integrates with your unknowing guests. He walks up to your guests and introduces himself as Gareth from Tech Support, saying head office have instructed him to check their phones and hits them
with some techy gibberish, they engage and suddenly chaos ensues, phones explode, smoke starts pouring from your smart watch and Gareth gives a hard reset to a phone…..with a hammer! If they haven't realised already, Gareth isn't your everyday tech support guy!
An amazing mixture of close up magic and comedy. Like a live prank show at your event where an encounter with a stranger turns into the most memorable part of the night.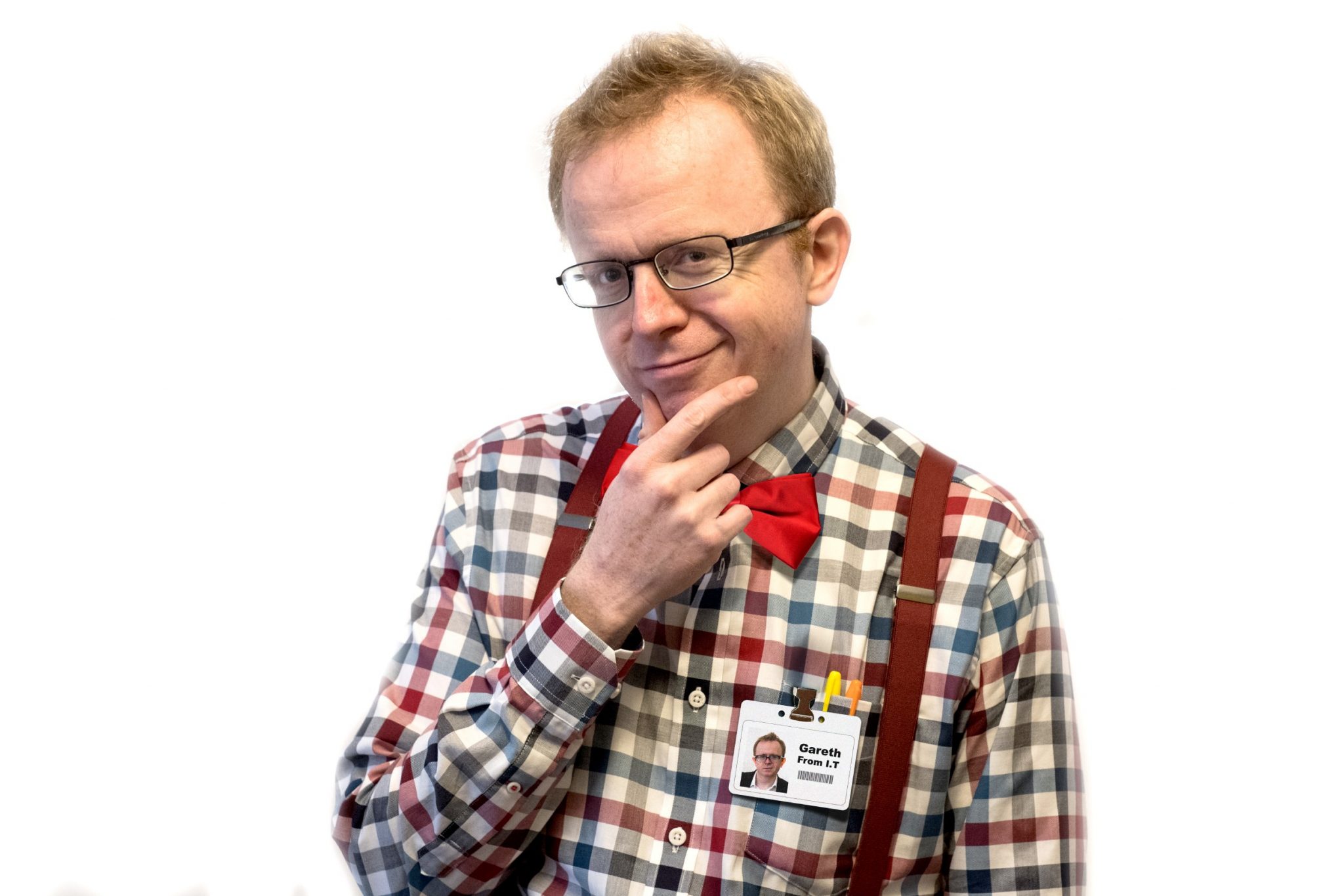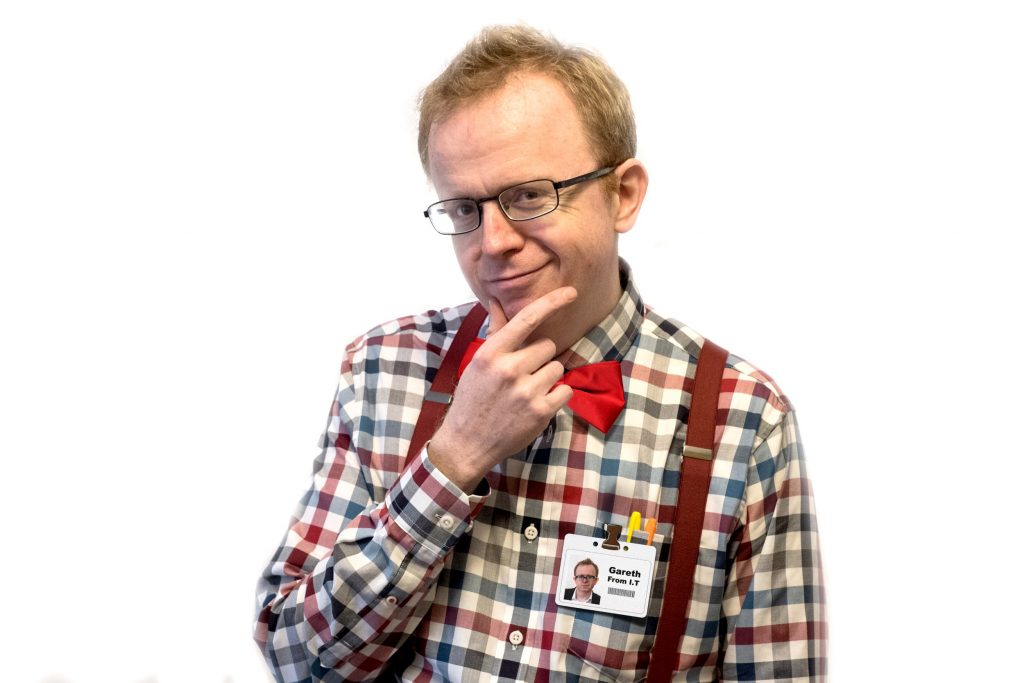 "Some people say I'm a geek, but I dont like that label – I see myself more as a genius. Yeah, sure, I'm a god to nerds, but my real friends have all got plugs and can never say mean things to me like the kids at school used to. I sleep in the server room as it's warmer and the humming is the purring of my babies.

When not working I can be seen swiping on Tinder, which I've completed twice; my iPhone screen has been eroded from the 14 hours of swiping a day. I dream of meeting a nice girl that I can really get to beta test. I fancy Sue the security guard at PC World, I know she's into me too as she watches me so closely.

My work in freelance tech support is my passion, I love enlightening the normos about what they're doing wrong! I'm looking forward to telling you to turn your computer off and on again and hopefully it won't end up exploding in a fireball."