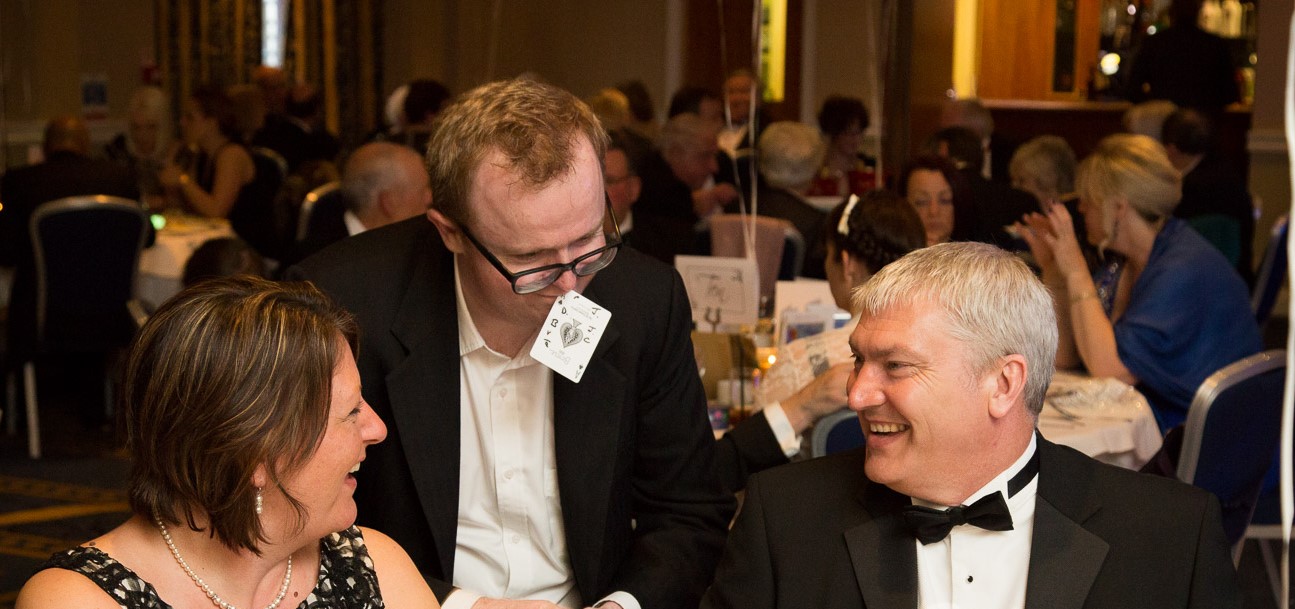 Reviews
Here are some of Noel's reviews. You can check out more on his Google reviews page.
Noel did iPad magic via Zoom at our wedding anniversary bridesmaids' party. The magic was amazing and extraordinary! Highly recommended… Thank you Noel, it was great!
Jane Anderson
Thank you for such an entertaining evening, the boys have not stopped talking about the magic all evening. Absolutely the highlight of lockdown!!
Minty Goodman
That was super incredible. Thank you!!
Harry Guthrie
Thank you very much for tonight's show. I have had lots of messages saying how much people enjoyed it!
Elisabeth Rosser
Noel came and performed at our daughter's 30th birthday party, and wow – what a brilliant performance it was! We were blown away by his tricks and loved the humour he interspersed with them as well. All in all, it was an extremely polished act and we can't recommend him highly enough. Thanks so much, Noel, for making the occasion so special.
David Corridan
Hi Noel,

Just wanted to thank you for a great performance at our party last night (and in a rather challenging situation with the heat).

The feedback was incredible from everybody – everybody loved it and couldn't believe how clever and magic your performance was. It was lovely as you went round the room to hear episodic spontaneous applause go with you and I'm sure it helped to create the happy vibe for the party that we were hoping for.

Many thanks again and hope you got back ok.

Best wishes
Ginny Ward

Thank you so much for entertaining everyone at my birthday party last week. I have had so many people say how amazing you were and that they are still trying to puzzle out how on earth you 'did it'. Having you there definitely added enormously to the enjoyment of the
evening, and helped make it a great success. Many thanks!
Jane Barrow

Thank you Noel for your amazing performance at our MS Society xmas party, I can say everyone enjoyed your entertainment and I know i can say this on behalf of myself and all of the 39 members that attended on the night, once again a big thank you and we shall be using you again for upcoming functions.
Minnie Burcin

Excellent magician, I cannot begin to understand how he was able to do what he did particularly with playing cards that I had personally marked! Great entertainment!
Philip Tipler

Amazed our guests all evening. Our third time being entertained by Noel and his magic is still a mystery.
Mark Turner
Noel performed for 60 people at my aunt's 90th birthday lunch last Saturday and was an absolute triumph… He approaches the table almost diffidently, before blowing your mind away with what appear to be simple tricks, but which remain totally awe-inspiring!! I went round to several tables with him and watched his hands very closely, rather than the trick itself, and could still not fathom how he worked his
'magic'…! After performing for 8 different tables, he then delighted his
audience with a few tricks to the whole room… again, had the room in
stitches!

Apart from the fact that Noel is a genuinely lovely guy, he is a quite superb magician and entertainer and I cannot rate him high enough! You made the day for us, Noel.
Jenny Money

Hi Noel,

I just wanted to say thank you for the great performance at our wedding. Everyone commented on it, and you were the highlight of the evening. People are still talking about it now. Thank you again for making an even better day.

Many thanks
Lee Riley

Dear Noel

Just a quick note to say thank you very much for entertaining us all last Thursday night. Great feedback was received from everyone!

Best wishes for Christmas and the New Year.

With regards,
Anne Willey, Premier Asset Management

Dear Noel,

I'm emailing to let you know how very, very pleased we were with your
performance on Saturday night. All our guests absolutely loved it and were discussing how on earth you could possibly have got cards where you got them! You were a large part of the conversations they were having, until eventually the hotpants on the ABBA girls edged ahead towards the end of the night!

Thank you so much. We won't hesitate to contact you again if we want a magician at future parties.

Best wishes
Arabella Murray

Hello Noel

Just wanted to say thank you so much for your excellent entertainment
on Tuesday evening for us at the Forest of Arden. Everyone was
astonished and delighted with your incredible tricks. We even had an enquiry from one of our guests about booking you for a future event they may be organising, so we will be passing on your information
to her.

Thanks once again, you were terrific.

Kind regards
Josie Arman, Hendrix Genetics

Noel

I just wanted to say thank you for Saturday. You were really outstanding and everyone really enjoyed your tricks.

Best regards
John Pottage, UBS

Dear Noel

Thank you for coming along to entertain the guests last night – they were astounded by what you showed them (including me!) and it was certainly fantastic close up magic. You made the evening something
very special for Anne.

Many thanks again.

All the best,
Nickie Keyte

Hi Noel,

Many thanks for last night.

It was a special day for us and we all had a fantastic time and I know that your amazing and astounding performances made everyone's evening that bit more memorable and fun.

Thank you again.

If I ever get married again, I'll definitely give you a call.

Kind regards
Ian Cox

Hi Noel

Just a quick line to say a huge Thank You for entertaining us and our many guests on Saturday at East Dean. We had a fantastic time and thoroughly enjoyed the illusions you did for us. Every time I speak to someone who was there they say Where did you find that Chap? Wasn't he fantastic, I just don't know how he did that! We were all bowled over. Thank you.

I hope I see you again soon!

Very best wishes
Jane & David Fenner

I booked Noel for a corporate family event for 120 people, and was really pleased. He was not only punctual and professional, but the magic was fantastic. I am (and others definitely were) cynical, but everyone was genuinely amazed at all of the tricks. They were honestly mind-boggling!

Noel walked around guests for an hour whilst they were having drinks, then around tables during dinner. Three hours was great, but people would have been happy to watch him all night.

I would definitely recommend Noel to anybody!
Sam Young

We booked Noel for our wedding party & he was Spectacular !

He interacted brilliantly with our guests, young & old performing
unbelievable close up magic tricks. Noel is a very likeable funny man & a professional magician.

We recommend you book this man for your event.
Mike Leathem

Hi Noel

Hope your journey home wasn't to traumatic,and that you
have recovered from the Sudbury Suffolk experience.

I just wanted to say a big thank you for adding a drop of magic to the
evening , i do believe people are still scratching there heads!! i've had some great comments.

You were a joy to deal with, thank you once again. I will have no
hesitation in recommending you.

Kind regards
Pete Kerruish

Hi Noel

Big thank you from us all Cyrano for making our Xmas party a big hit. Everyone is talking about your tricks and what a great time they had. Have a great Christmas and Happy New Year. Your name will be first out the hat if a friend is looking for a magician.

Regards
Simon Adlington, Cyrano Ltd

Wonderful magic at the family wedding last Friday. Noel managed to get round all the guests, everyone was hugely impressed. All his hard work and tricks were very much appreciated and enjoyed. We could always tell where Noel was in the room because of the whoops of delight! Have used him before, and will definitely use him again.
David Orme

Noel recently performed at our wedding reception and he was awesome – a month on and people are still talking about him, particularly the card in the box trick! Noel's tricks and overall
performance impressed even the most cynical among us and helped to create a fantastic, excitable atmosphere that continued all night.

Noel is an absolute pleasure to deal with and I will be recommending him to everyone I meet!

Thanks so much Noel,
Lucy Harries

Thank you for an amazing evening of entertainment at our Christmas party. You certainly made a huge impression on everyone and I had many great comments and conversations with baffled clients still trying to figure out your tricks. It was great to hear the gasps of amazement, cheers and clapping from groups across the room. Your close-up magic added to a thoroughly enjoyable and memorable evening.
Claire Haylock, Viacom Outdoor

Noel was incredibly professional and charming when he performed for us at The Kingly Club. He astounded our guests with his tricks & created a fantastic atmosphere & talking point for the evening.
Kate McKenzie, The Kingly Club

You were fantastic — not a dry eye in the house… everyone was spellbound. I'm still reeling over the ring trick myself, which is a really slick routine. You're getting quite a bit of 'word-by-mouth' out if it too, I can tell you… Well done. Obviously a very practiced act — I wish you well with your future career and look forward to seeing your name in lights!
Simon Prentis, Simon Prentis Assc.

Noel, Once again thank you so much for entertaining our guests last Thursday night. Your magic is truly amazing and even had the greatest of sceptics in awe at the tricks you performed on the night. All in all you helped make it a truly memorable evening for all.
Lorna Burgoine, SunGuard Investment Systems

Hi Noel,
I would just like to say once again a HUGE thank you for last night…We had brilliant feedback on both of you….Some people have requested both yours and the other magicians details so could you both post me some business cards. Many Thanks.
Annie O'Kane

Hello Noel, I just wanted to thank you very much for Saturday evening. All my guests had such fun with you and have been talking about your great tricks ever since. It was an incredibly successful and fun party and I am grateful for your part. Many thanks again and kindest regards.
Jane Wheelock

Hi there Noel
I was going to e-mail you this morning to say how much everyone loved your magic. You really did make my father's 80th birthday lunch truly memorable and I think everyone will always remember it, which is what I hoped asking you along would achieve. Thank you so much.
I won't be able to recommend you highly enough to anyone thinking of hiring a close up magician for a party or event.
With very best wishes and thanks.
Jane West

Noel amazed and astounded the Consorts of The City of London Livery Companies at a recent Mayoral event.
Highly recommended! We have re-booked him for a future event, which is all you really need to know!
Annie Prouse, The City of London Livery Companies

Noel came to a 10-person 60th Birthday party. We are all gnarly rugby blokes, have seen close magic before and thought we knew what we'd get. How wrong we were. Noel's highly amusing patter combined with the sheer quality of his performance left even the most sceptical open-mouthed. He's a nice bloke and is really, really good at what he does. Highly recommended.
Jonathon Howard

Noel performed magic for a dinner for 65 people and his magic really amazed everybody. Many people had seen
magicians before at functions but all felt that Noel really is on a different level. He really made the evening and when I see people from the dinner they still talk about Noel's magic. Brilliant!
RE

Really terrific magician – wonderful entertainment, very much enjoyed by our guests. Noel has an easy manner, fun to have him there. Warmly recommended.
John Lenton

From booking to performance, dealing with Noel was a huge pleasure. His presentation is witty and canny, his magic sublime. Every one of our 60 guests was enthralled with his illusions. From close up sleight of hand in small groups to performing on stage, each trick left everyone awestruck and demanding more!

Magic at its riveting best, his performance guaranteed a successful party.
Ed Time

Hi Noel,

When you first arrived at my surprise party I didn't know obviously who you were when you performed your magic to me at the entrance, then the penny dropped and it was a fantastic surprise by my husband!! Everyone thought you were amazing and thoroughly enjoyed your entertainment, so a big thank you from me for making my 50th a truly wonderful evening and one I will
always remember.

Yours gratefully,
Amanda Longbottom

Noel is absolutely brilliant! We were in complete awe at some of his tricks and he really added something to our
wedding day – all our guests kept saying how much they had enjoyed the amazing magician!
Claire Tipler

Noel

I have now had most of the feedback from Saturday
and just wanted to say that we were all very impressed with your magic. People who have had magicians at previous events said you were way above anything they
have seen before.

So thank you for helping make the evening such a
great success. Your incredible magic, together with your friendly relaxing manner put everyone in a great mood which led to an excellent evening.

I shall certainly recommend you and, if the
occasion arises, ask you to to perform your magic for us all again.

With best wishes
Richard Elvin

I wanted thank you for being our magician on the 29th November at the Mercure Hotel. Everyone really enjoyed your tricks (do we call them tricks?), and we are still talking about the things you did and trying to work out how you did them. For me it was the 5p piece that
emitted smoke from my hands and then folded itself in half! I was convinced it was a fake coin, but after a few tries at straightening it I realised it was a real coin – it must be magic!

Thanks again, you really did help to make the event a success.
Tracey Wakeling, Maidstone MS Society

Hi Noel,

Thank you for Saturday – it was perfect. Everyone was talking about you and it made all the difference.

All the best
Graham Brown, Forces Recruitment Services

Hi Noel,

Just to say a really big thank you for Sunday, adults and children were in awe of your magic. I know we will never part with our two sided playing card.

What a wonderful talent you have. I have passed on your details to a few present, so maybe one day will have the pleasure of seeing you perform again.

With kind regards
Grace Morl

Hi Noel

Just wanted to drop you a note to say thanks for everything on Saturday. I was really impressed with the magic and all of the guests commented as to how good you were. No one could work out the trick in the box on the floor and my father who is a real skeptic was also impressed!

Really was a pleasure having you and hope you will do some entertaining again for us in future.

Best regards
Ben Carter, Alpha Healthcare

Hi Noel,

Just a quick note to say thanks for doing our
wedding last night. We've had a lot of comments about 'The magician', and it was a great surprise for people. We felt lucky to have you there and the magic tricks (Or just sheer magic) was fantastic. I hope you enjoyed yourself too.

All the best,
Ken Ingham

Morning Noel, just short line to say thank you for
bringing an extra dimension to our 25th Wedding Anniversary Party – you made a great night fantastic ! Everyone loved your 'magic' and relaxed style of delivery – well done and thanks again.

Kind regards
Soames Springthorpe

Dear Noel,

I just wanted to drop you a quick note to thank you once again for entertaining us all at our wedding. As you have probably heard many times, you were the talking point of the wedding ! Everyone loved your magic and were speechless.

I just feel privileged that you entertained us on our "special
day" .

Best wishes,
Paul & Adele Regan

I invited Noel to contribute to the formal opening of our private Specialist Orthodontic practice last night. This
was an extremely important event for us with 30 referring dentists attending and Noel's input was magnificent. If you want someone utterly good to keep your guests cheerful, he's your man.
Chris Gibbs, Director, Walpole – The Orthodontic Specialists, Thames Ditton

Noel Qualter provided the evening's entertainment at my law firm's recent office summer party. Noel was absolutely
superb. Everybody really enjoyed his performance. He was engaging and witty, as well as being a really talented magician. All his magic tricks were excellent, but some of them were absolutely mind-blowing – and we are still discussing them in the office now several weeks later. Our minds are still boggling at how on earth he does it…..!

I was responsible for booking Noel and the booking process was effortless. We exchanged a few emails, paid a small deposit and then Noel arrived early on the night and went straight into his live act of up-close magic. We paid the
balance owed to Noel by cheque at the end of Noel's performance on the night.

I would not hesitate to recommend Noel Qualter to anybody who is looking for a gifted magician to perform up-close magic at any party or event.
Lauren Dunford

Hi Noel, just a quick note to say thank you so much for your
entertainment on Saturday. Everybody was so impressed (even the cynical teenagers)! You were brilliant and made everyone feel involved. Would certainly recommend you to anyone.

Thanks again.
Bet Wiggs

Noel was the most incredible mind boggling magician I've have ever seen before. It was obvious he had years of
experience under his belt as his tricks left you speechless. Noel, however, not only amazed you he had the talent of interacting with every age group and picked the right tricks for the right ages. He was very easy going and mingled
with guest superbly. After, the party people still talked about the magician, which shows exactly how incredible he was. Many thanks to you Noel!!
Freddie Marten

Hello and happy new year Noel

Thanks for last Monday and everybody thought you were absolutely superb…I will unhesitatingly submit a very positive appraisal of your performance.

Until our paths cross again..many thanks.

Kindest regards
Bill Barry, WP Homes

Noel is so far above your standard 'close up magician' that I think someone needs to come up with a better way of
describing his act! Quite simply, I was flaberghasted. You walk away saying to yourself – 'how on earth does he do that!…'

We booked him for a 40th Birthday and it really made the night extra special. The Mystery Room idea went down brilliantly.

Highly Recommended!
John Cole

Hi Noel,
Am now back from honeymoon and just wanted to write you a note of thanks for your outstanding performance at our wedding on the 6th September. You were fantastic and I heard nothing but great comments from other guests. Anyway, our thanks again… I think the standing ovation as you walked out truly said it all. Good luck in the future and Kind Regards,
Jason & Karen McKelvie

Hi Noel, just wanted to thank you so much for entertaining us all so well last night, especially given the limited space!! Everyone was talking about your tricks for the rest of the night and whilst providing lots of laughs you managed to flabbergast even the most cynical of our friends! Feedback today is that you were the highlight of the night! So thanks again, I hope to use you again at some point in the future… All the best.
Victoria Hanley

Just wanted to say thank you so much for making our Christmas Party that much more special. It was magic! Everyone really enjoyed your performance and agreed that it really added something to the evening. We would certainly recommend you to anyone looking for a good entertainer.
Lucy and Michelle, Eurobet

Dear Noel,
I wanted to say a heartfelt thanks to you for helping to make our wedding day so special. Thank you for your hard work and ingenious trickery, especially when dealing with such noise in the room (albeit the wonderful singing of Sax & Honey). Thanks once again and I wish you all the best for the future.
Kelly (and John)

Dear Noel
Thanks so much for your magic at my party. My family and friends really enjoyed it and your amazing tricks really had them stumped. You really helped to make the party extra special. Many thanks again.
Shumi Somasekeran