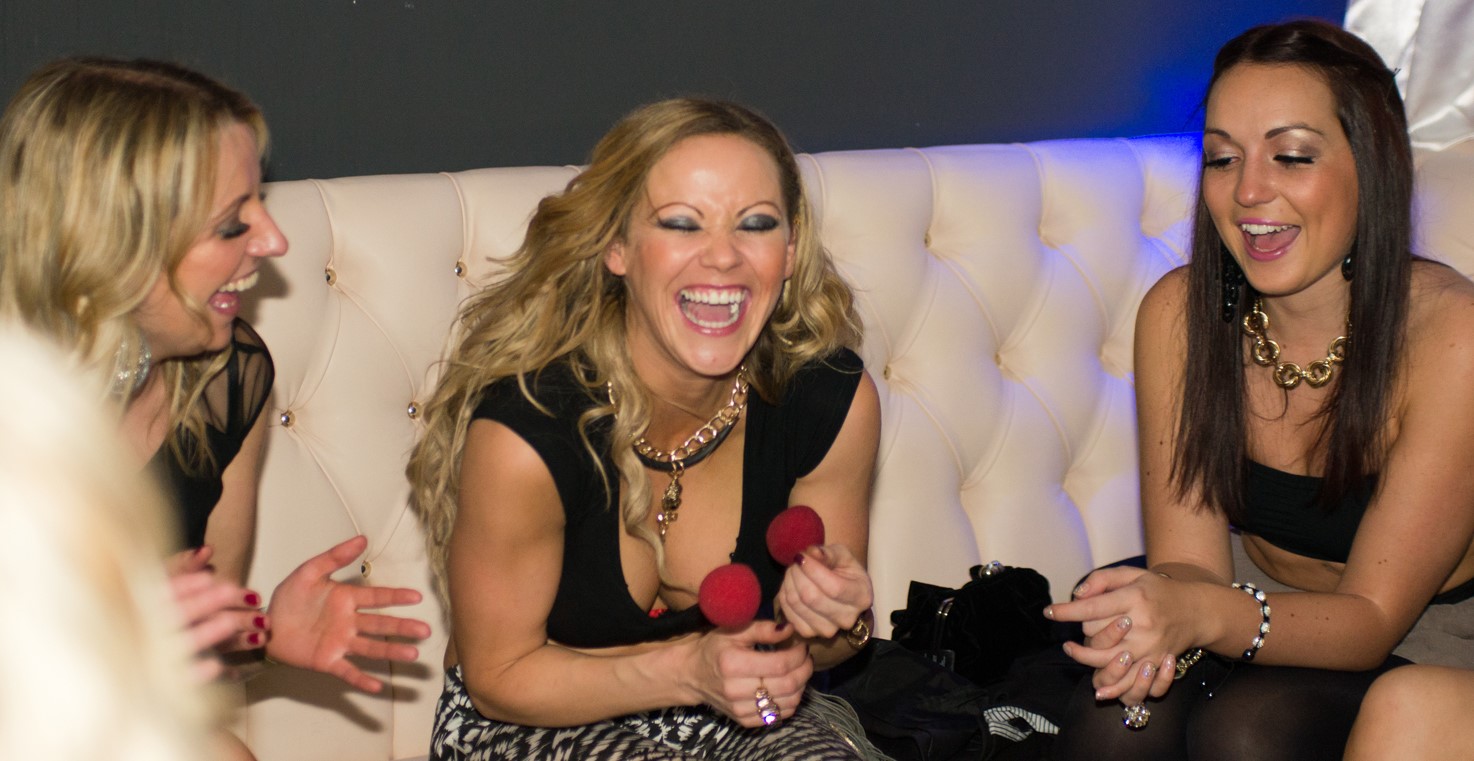 Are you looking to hire a magician in Manchester for event, wedding or party? Well Noel Qualter has nearly 20 years of experience working as a Manchester magician. Many thousands of guests at a variety of functions have witnessed Noel's amazing close up magic, and people come back year on year to rebook him for their events. If you're looking for a party magician in the North West then you are in the right place. Below you will find loads more info on the different types of close up magic Noel can offer.
Close up Magician Manchester
One of the many skills of the close up magician is being able to approach a group of strangers, put them at ease, and within moments have them laughing and reacting to amazing magic. Noel has a winning formula for this honed over his 20 years as a professional close up magician in Manchester. His close up magic is a mixture of sleight of hand, mind reading, wit and banter, combined with plenty of interacton with spectators.
You may well have seen close up magicians on the TV, but seeing one live is something completely different. Magic works best if you can see and, maybe even touch, the objects being used. On TV you don't have that luxury, but with close up magician performing in front of you, you can see the magic happen before your eyes. Just when you think it couldn't get any fairer the close up magician blows your mind!
Noel is also an iPad and digital magician. Tech magic is ideal for corporate functions, tech companies, or just if you're looking for magic that's fresh, new and different. Contact Noel to discuss what tech magic can bring to your event.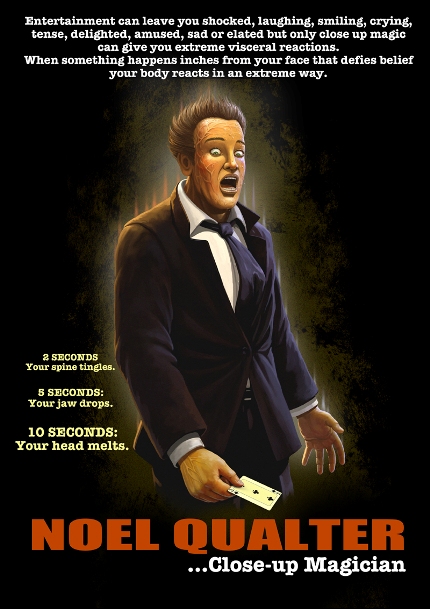 Wedding Magician Manchester
There has been an explosion in popularity for wedding magicians in Manchester, and for good reason. A skilled wedding magician can add a great deal to your special day: one way this happens is by the magician breaking the ice between different groups, bringing them together and giving them a shared experience to laugh and marvel over. When you witness bewildering close up magic you cannot believe your eyes, and you're compelled to discuss it! He'll have your guests talking and laughing together, even if they're strangers.
There are several different opportunities during the big day for utilising a wedding magician.
You could ask Noel to perform during the photographs where he will mix and mingle with the guests showcasing his skill with cards, coins and other small objects.
The wedding breakfast is a popular time for the magician to perform. This allows the most amount of people to see the wedding magician as everybody is seated and nobody gets missed out.
Or you could decide to hire Noel to entertain the evening guests as they arrive. This gets everyone in the party spirit quickly.
Get in touch with Noel to discuss your requirements for magic at your wedding.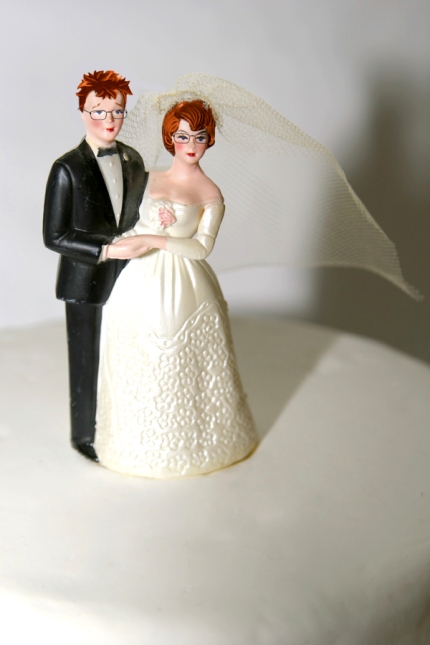 Table Magician Manchester
If you're holding a banquet then a Manchester table magician is a very versatile form of entertainment that can be enjoyed by everybody. The beauty of table magic is no staging is required. The table magician simply walks from table to table entertaining each with perfect little magic show with items from their pockets.
Over the last 20 years Noel has been used to entertain at a wide variety of meals from awards dinners to charity fund raisers and Christmas parties. You will be able to tell when Noel is working his magic as a fun atmosphere descends on the room and follows Noel wherever he goes. If you're looking for a top professional table magician in Manchester get in touch with Noel today.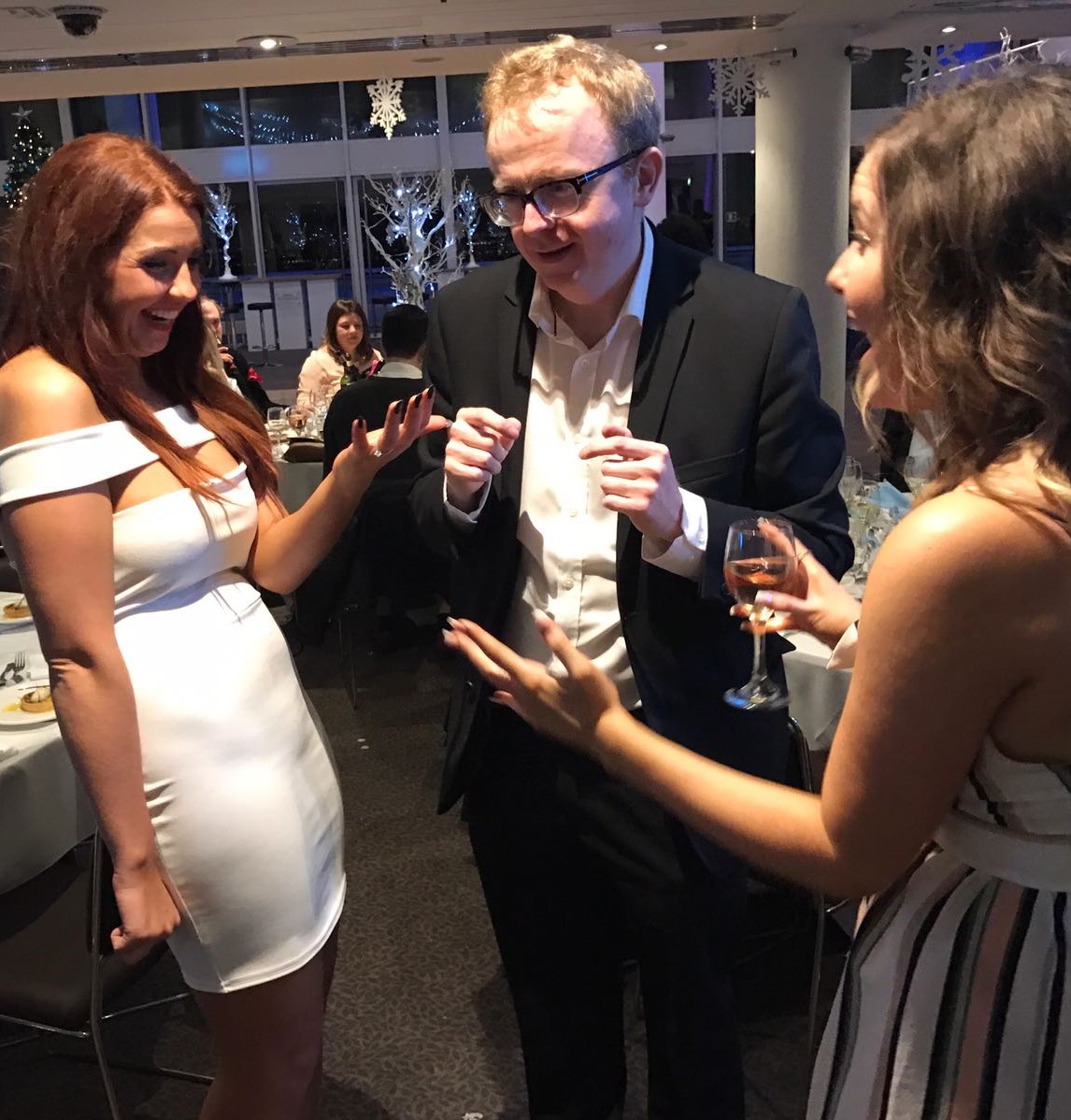 Corporate Magician Manchester
There are some huge companies based in Manchester, and if you are an event organiser looking for a magician for your corporate event in Manchester then you're in the right place. Noel has worked for some of the biggest multinationals in the world at events all over the world. He has performed for Warner Bros, Barclays Capital, HBOS, Aegon, booking.com and many more. More details can be found on the corporate magician and testimonials pages.
One useful skill of a corporate magician is the ability to be able to adapt a magic trikck routine for different events. This is great as a branding tool because the magician can make small changes to an existing effect to make it a perfect fit for your business. If you want, the presentation of the trick can even be changed to draw attention to specific points you'd like to promote. Corporate magic is a very versatile area and almost anything can be done, so if you have questions about this don't hesitate to contact Noel.
Noel is also available to work as an exhibition magician and event magician in Manchester so if you're considering hiring a magician to draw people to your trade show booth then Noel is the perfect person to do this.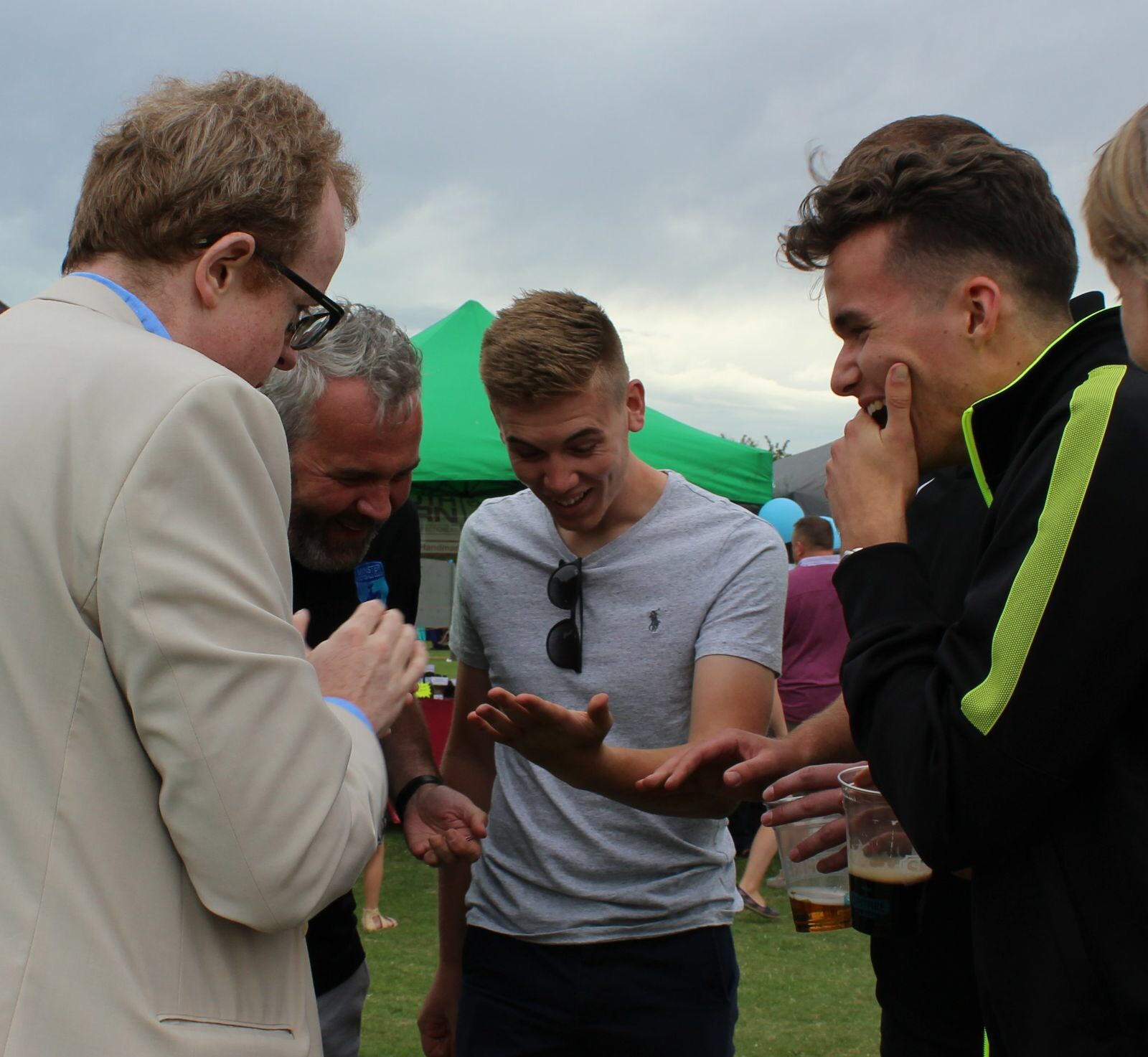 Party Magician Manchester
Party magician Noel attends dozens of parties all over the UK every year, so if you're looking for a party magician in Manchester then keep reading. A party magician makes a great surprise attraction at a variety of events. If you know somebody who always "oohs and ahhs" at the exploits of TV magicians like Dynamo, Derren Brown and David Blaine then a Manchester pary magician is a great way to make their party extra special. If it's a birthday party, garden party, dinner party or anniversary then Noel can add a magical touch with his sleight of hand skill and quick wit.
Noel has been rebooked for parties multiple times, which is a testament to his skill. When you see amazing magic it sticks in the memory for a long time and people have been known to keep a signed card or twisted glass for many years as a memento of the party. If you're holding small party then Noel can come and do his formal magic show, which is great for a group of up to 20 where everybody can watch at once. If you're having a large event then walkaround magic and table magic is perfect.
Magicians in Manchester
Noel is lucky enough to be friends with some of the very best magicians in the North West, so if you're looking for a couple of magicians for an event in Manchester then get in touch. Larger events require more magicians to ensure everyone sees some magic. As a guideline one magician is needed for every hundred guests. In the past Noel has been called on to book a team of ten magicians to work at a huge event for over a thousand guests. Noel only works with top professional magicians that he has worked with in the past and you be sure they are all exceptional quality.
In fact, no matter what type of entertainment you require, from caricaturists to casino tables, Noel can give you a nudge in the right direction and even book them on your behalf if you wish.
If you like the sound of having Noel at your event, get in touch! Don't forget to watch him in action as well, to see how great he will make your occasion.