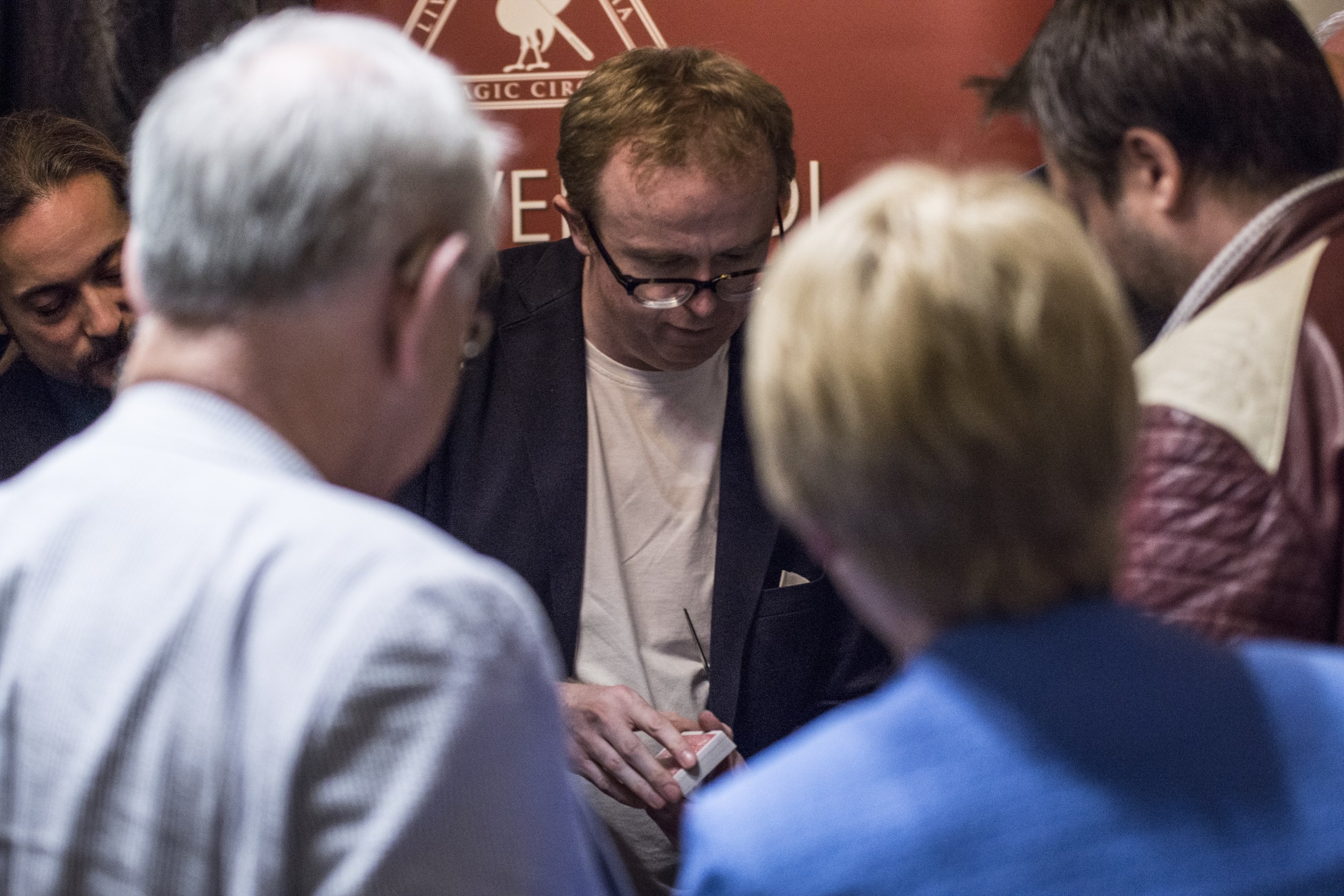 The Mystery Room magician is a simple idea with huge possibilities and a different dynamic to either table magic or strolling magic. The basic idea is that the host allocates one room just for the magician. The guests are all told that there is a surprise for them all and they get to find out in small groups. This of course creates huge interest, banter and second guessing and this builds until they are invited to the Mystery Room. The guests can be invited in a couple of ways:
The host can grab a small group and bring them to the Mystery Room. This is a great way for the host or organiser to mingle with all their guests and say hello to them even if they haven't got a huge amount of time to spend with everybody.
Noel can pop into the main room and grab a group without giving them any clue as to where they are being brought!
Each group size depend on how many guests are attending but obviously as its close up magic smaller groups are best, with the maximum of about 20 people in each group. The Mystery Room concept is the best way to experience close up magic, with a quiet room and perfect sightlines so everybody can get really up close and personal. Once a group has seen the act and are about to leave Noel asks them m to please keep the secret and to remain silent no matter what the pressure is…soon enough everybody will have seen the amazing close up magic and the secret is out.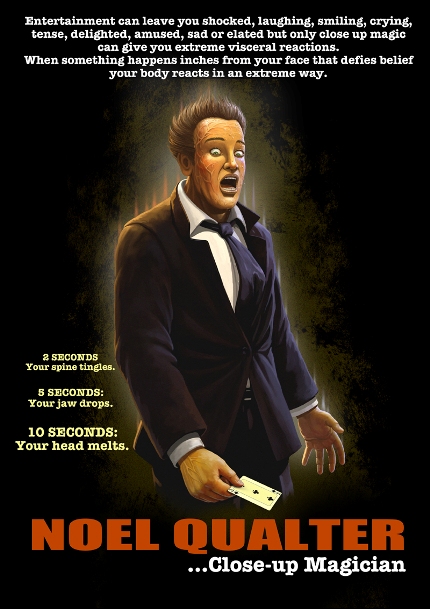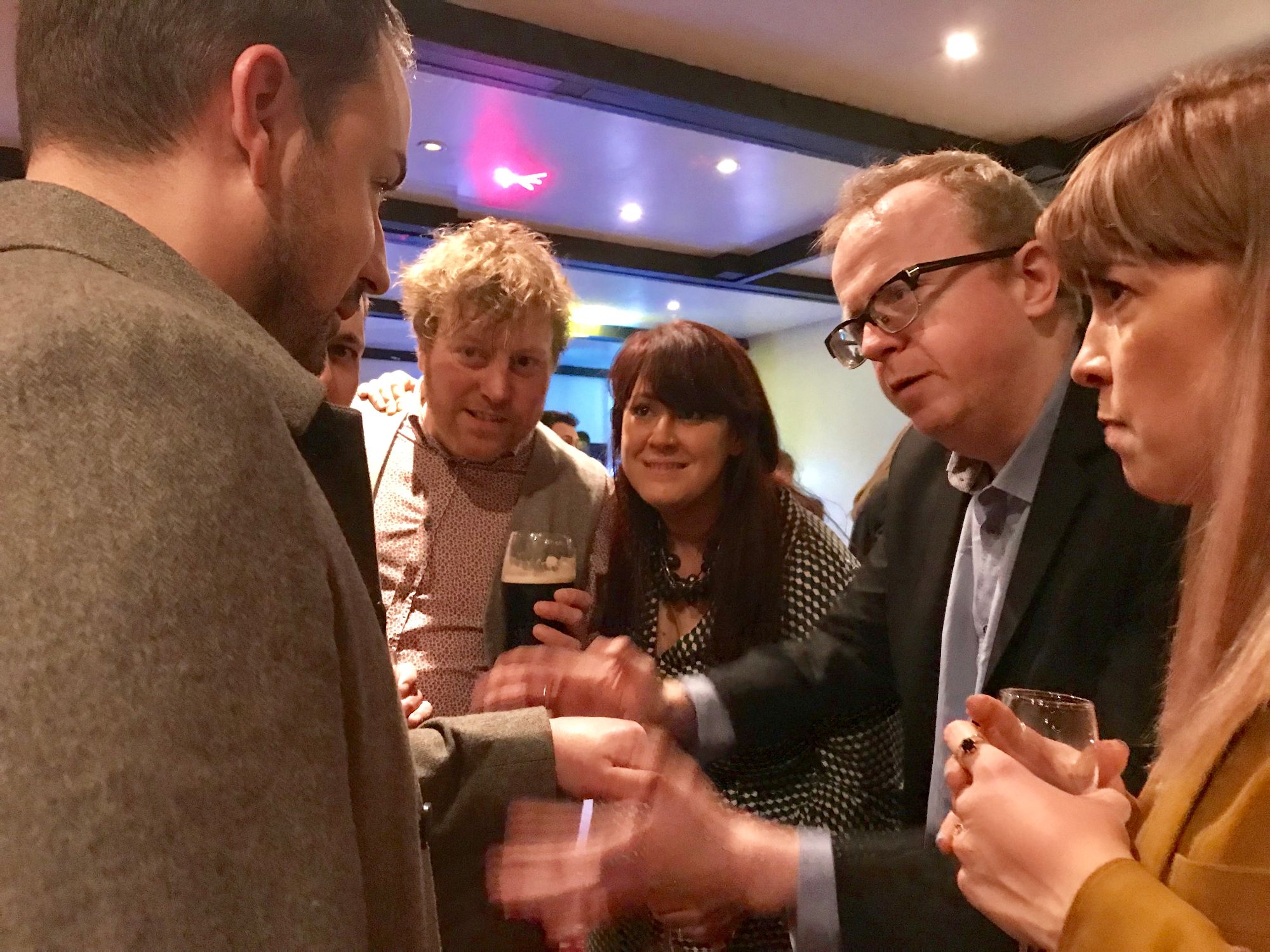 Perfect place for viewing, everybody gets a great seat and can hear every word.
Suspense builds in the room as guests speculate as to what the surprise might be.
Perfect for small intimate parties where strolling/mix and mingle/table magic wouldn't be suitable.
A new concept in close up magic performance. Perfect if you wish to integrate amazing magic in a novel and interesting way.
Noel says "I never get to hear what jokes people are making about what the surprise might be but I'm sure there is some fairly outlandish and scandalous suggestions. As soon as the new group walks in I let them sit down and let the tension build. When I start you can see the excitement in their faces and they experience close up magic in the very best possible way".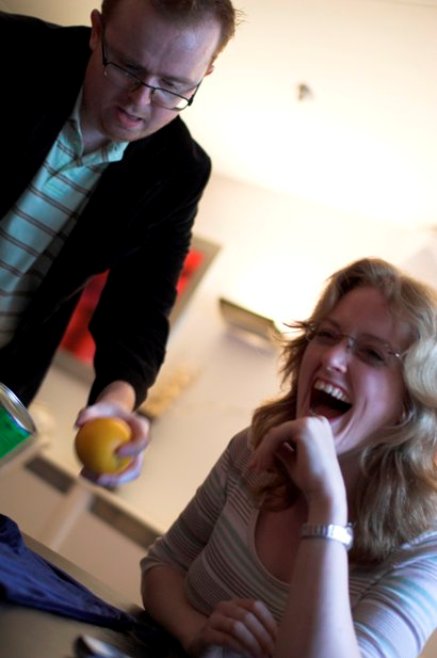 Close up magicians usually perform moving from group to group meandering around and astonishing one group at a time. This has many wonderful attributes but also a couple of small negatives. Sometimes the volume is very loud in the room and the magician has to bellow to be heard, waiters are constantly dropping by with canapés and people often have bad viewing angles. The secret room concept removes all those issues and is perfect for small to medium sized events. Noel says
"Having performed at many different small intimate events my best advice, if possible is to work with a "Mystery Room". The idea behind this is to allocate a room in the house/venue which is solely for the magic performance. Small groups of guests are then invited to take a trip to the "mystery room" and I will introduce myself and let them in on the big secret. After I amaze and astonish the guests with my magic I send them back to the party but with a request "don't tell anyone what the secret is!"
The Mystery Room idea has a different dynamic – usually after Noel has started to perform strolling magic or table magic it's easy to spot that there is a magician in the house and excitement rapidly spreads around the room. With the Mystery Room obviously nobody knows there is a magician at first but guests are told that there is a surprise in a room."
Hire a Mystery Room Magician
If you have any questions about the Mystery Room and whether it would suit at your event please
contact Noel
.